We're excited about our new partnership with Matterport.  GRP can now produce 3D walkthroughs of homes and commerical properties – imagine Google streetview inside a home!  Your customers can walk through the home, see every corner and feel like they are really there.
While there are no formal metrics for proving that 3D technology sells home faster, we know from our many partners and clients that it helps sell them better. What do we mean by that exactly?
We know that this technology speaks to Millennials, Mids and Gen-Xers. It appeals to them because it allows them to control their schedules and viewings and creates an enterprise storefront which is familiar and intuitive.
Buyers who have viewed the homes via Matterport Technologies are more likely to write an offer at the first showing than those who have not viewed a Matterport listing.  When a buyer chooses to tour a home after viewing a scan, it is to confirm, rather than establish interest in the property. This shortens the sales cycle and creates an unprecedented efficiency in the market for both clients and Realtors.
The benefits to sellers are numerous and valuable. Young families are no longer required to vacate their homes on a moment's notice for a showing. There is less need for perpetual readiness and/or the space being subjected to multiple open houses and photography sessions.
Lastly, homes which are showcased with Matterport listings have higher click counts, viewings and Social Media engagements. More eyes means more prospective buyers. And more buyers means higher sales prices, shorter time on market, and more buzz for the agent.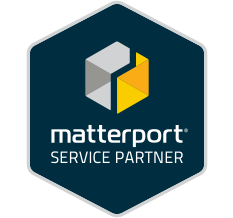 We are constantly adding to our portfolio of 3D scans.  See more of our 3D Imaging here.
Contact us if you're interested in our 3D Imaging Services.  For more information on Matterport, visit matterport.com